Home page of Alexandre Termier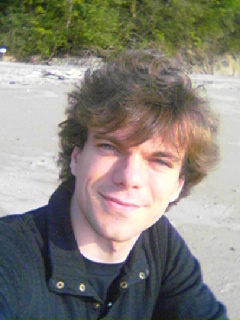 Table of Contents
Contact
Alexandre Termier (PhD, Associate Professor)

LIG (Laboratoire d'Informatique de Grenoble), HADAS team
Université Joseph Fourier
681 rue de la Passerelle
B.P. 72, 38402 Saint Martin d'Hères (FRANCE)
Phone: +33 4 76 82 72 07
Fax: +33 4 76 82 72 87

Office D300 in ENSIMAG building D, on the campus.
mail: my first name [dot] my family name [at] imag.fr
Research topics
Keywords
Data mining, Parallelism, Pattern mining.
Research
My main research interest is the study of pattern mining algorithms. As these algorithms need a very long running time, I am especially interested in the design of parallel pattern mining algorithms, capable of taking advantage of multi-core processors.
Recently, I am especially interested in generic pattern mining algorithms, capable of tackling many different problems with a single efficient algorithm. With my PhD student Benjamin Négrevergne, we recently proposed ParaMiner, one of the first generic and parallel closed pattern mining algorithms, that have mining performances close to the best specialized algorithms. Check our DMKD'13 journal paper ! (draft available in PDF)
My current application focus is on trace analysis, especially execution traces from MultiProcessor System-on-Chip (MPSoC) through a collaboration with STMicroelectronics. In this context, we proposed in the PhD of Patricia Lopez Cueva a first condensed representation for periodic patterns. In the PhD of Sofiane Lagraa, we are working on methods for the automatic detection of contention over future large MPSoC tested through cycle accurate simulators.
In the past, I have also worked on mining gradual patterns as well as DAG and tree patterns.
Students
Past
Postdoc: Aurélie Bertaux, "Approximate graph mining in large databases" (2011-2012), co-supervised with Eric Gaussier.
PhD: Patricia Lopez Cueva, "Analysis and Visualization of Execution Traces on MPSoC" (2010 - defende on 08/07/2013), co-supervised with Jean-François Méhaut, Miguel Santana (STMicroelectronics) and Guillaume Huard
PhD: Benjamin Négrevergne, "Design and implementation of a programming framework for data mining on multicore architectures" (2008 - defended on 29/11/2011) co-supervised with Marie-Christine Rousset, in close cooperation with Jean-François Méhaut
PhD: Rémi Tournaire, "Automatic discovery of mappings between ontologies" (2007 - defended on 08/10/2010), co-supervised with Marie-Christine Rousset and Jean-Marc Petit
M2R: Behrooz Omidvar Tehrani
M2R: Hamid Mirisae
M2R: Trong Dinh Thac Do
M2R: Léon-Constantin Fopa
M2R: Serge-Vladimir Emteu
M2R: Benjamin Négrevergne
Academic Activities
Member of Program Comittees
ICDM'13 → ICDM'09
SIAM DM'13, SIAM DM'09
ECML/PKDD'10
ISPA 2013 → ISPA'10, ICTAI, PAKDD, ACML, PRICAI
EGC'13\ rightarrow EGC'09
Reviewer for International Journals
Transactions on Knowledge and Data Engineering (TKDE)
Machine Learning Journal
The VLDB Journal
Data & Knowledge Engineering Journal (DKE)
Knowledge and Information Systems Journal (KAIS)
Teaching
General
I teach data mining, machine achitecture, databases and computer science fundamentals at Université Joseph Fourier and Polytech Grenoble.
I am also co-responsible of business and research internships for the third year students in computer science (M1 level in French System).
Option IFD
Cours d'Introduction à la Fouille de Données (IFD) pour les M1 MIAGE de l'UFR IM²AG. Ce cours introduit aussi la programmation fonctionnelle en Haskell, et utilise ce langage pour écrire quelques algorithmes simples de fouille de données.
Les cours en ligne pour 2011/2012 :
Cours 5, 6, 7 : Pattern mining. Cours au tableau : pour les étudiants de M1 MIAGE, cf. vos notes de cours.
Cours 7 et 8, classification et clustering : slides du site Introduction to Data Mining par P-N. Tan, M. Steinbach et V. Kumar
Archives :
Cours de 2010/2011 (.tgz) L'option s'appelait RIM (Recherche d'Information Multimedia) en 2010/2011, mais le contenu est similaire à 2011/2012.