Edited on November 12, 2020 (replacement of the Tobii eye-tracker 4C at 169 € for the Tobii 5 at 229 €)
Edited on the 2nd of December 2018 (addition of Tobii Dynavox Gaze Point).
In this post, prices are the ones from France.
I have been interested for about two and a half years in eye guided AAC, especially for children with multiple disabilities. This post aims to review what can be done in August 2018 for a minimum cost (around 600 euros inc VAT/post). Note that this price has been decreased since last year with the release of low-cost eye-trackers and free tools to take control of the mouse. The cost of this solution:
allows to quickly set up an AAC guided by gaze at home or in professional practices but also to set up such an AAC on a larger scale in specialized institutions. It should also be possible to arrange this solution on armchairs but I have not (yet) studied the question;
is reasonable given the lifetime of the computer equipment (3 to 6 years depending on its quality and use).
Hardware and software can be distinguished on the one hand and software on the other. In a perfect world, we should have an independence of both but unfortunately, the most easily available eye-trackers only work on Windows.
Of course, it is as much as possible free and open source software for cost reasons of course and because it is easier to make them evolve according to needs.
Required Hardware and Software
Are necessary: an eye-tracker, an operating system, a tool allowing the control of the mouse by the eye-tracker, an educational games software and a communication software.
Eye-Tracker
Tobii 5 (159 € on Amazon or directly at Tobii). It is delivered with 2 adhesive and magnetic supports to be fixed on a screen and/or a tablet computer. It is possible to have several profiles to avoid recalibrating each time you change users.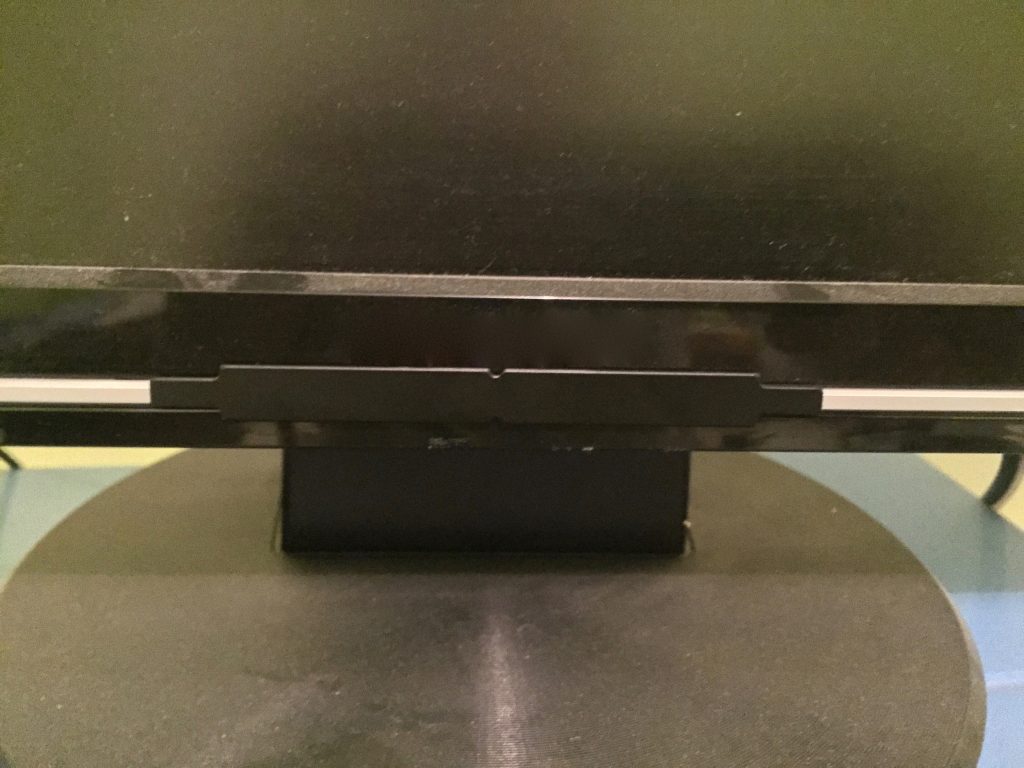 Software
Operating system
Windows version 7 to 10, especially version 10. Price: variable (often included in the price of the computer).
Mouse control
Two softwares permit to use all games and communication softwares whether they are free (GazePlay, GazeSpeaker) or not (Smartbox Look to Learn, Tobii Communicator, Jabbla Mind Express or Smartbox The Grid).
Précision Gaze Mouse (free on https://precisiongazemouse.com). With the Tobii 4C and this small software running under Windows, the mouse cursor follows the gaze.
Tobii Dynavox Gaze Point (free on https://www.tobiidynavox.com/fr/software-apps/free-resources/gaze-point/ ). The market leader offers its own software which permits to control the mouse cursor with many eye-trackers including Tobii 4C. It is convenient and complete (calibration, optimal distance to the eye-tracker,…).
Computer/Tablet Computer
Depending on requirements, tablet, desktop or laptop computer. All three can be combined according to the needs/equipment already available. A priori any equipment purchased after 2014 should be suitable, between 2010 and 2012, it will be possible if it was good equipment and it should be very complicated with equipment before 2012.
Recommended configuration
Processor does not matter (> 2014), otherwise, i5, i7
Ram: 4GB but 8 would be better and 16GB perfect.
SSD hard disk for more fluidity (60 GB min) but a classic hard disk should be suitable (but you should think about changing it before it crashes, it becomes old 😉 ).
A classic usb2 plug
Internet connection
Tablet Computer
Only a Microsoft Windows tablet is possible. The advantage is that tactile use is also possible.
The Core i5 model, 8 GB RAM, 128 GB SSD, Windows 10 Pro at 1328 euros would be perfect (here at Amazon at 999 euros when I write these lines).
The Microsoft Surface Pro Core M RAM 4 GB SSD 128 GB model at 1021 euros might be suitable (here at Amazon). If someone has the opportunity to test that and let me a message.
Fixed computer
The advantage of the fixed computer is that it is the least expensive solution and that you can make the configuration best suited to your needs and means. The other advantage is that you can have a remote screen more adapted to the needs of the child and that it is less necessary to calibrate. Finally, it is very easy to change a component (change the hard disk, add memory) without having to change everything. The disadvantage is that you need an electrical outlet to plug it in (which is probably not a problem most of the time). Price: Computer 300 euros + screen 150 euros.
There are also all-in-one fixed computers with touch screens (but it is usually less easy to change a component)
Laptop Computer
It is all in one and cheaper than a tablet, a little less mobile too.
Reasonable computer configuration (€561.71 incl. VAT; €568.10 excl. VAT)
Computer +"gamer" screen (here on amazon) : Vibox – VBX-PC-1528 – Package Center 10 CPU Gaming Non-Touch Screen 21.5″(54.61 cm) Blue Neon (AMD Athlon 64 FX, 8GB RAM, 1 to, AMD Radeon HD 8370D) : 401.71€
Eye-tracker : Tobii 4C : 159€
Mouse Control, Gaze Mouse Precision : 0€
Games software, GazePlay : 0€
Communication software, GazeSpeaker : 0€
560,71€ (or approximately 2000 € with Communicator and Look to learn)
You will find laptops at similar prices with a less powerful machine (it is not a true problem) but an ease to move it (at the price of a calibration to be carried out more regularly).
Reasonable Tablet Computer Configuration (1158,00-1487,00€ TTC; 965-1239,16€ HT)
Microsoft tablet surface, Core i5 model, RAM 8 GB, SSD 128 GB, Windows 10 Pro at 1328 euros (here at Amazon at 999 euros when I write these lines) : 1328€
Eye-tracker : Tobii 4C : 159€
Mouse Control, Gauze Mouse Precision : 0€
Games software, GazePlay : 0€
Communication software, GazeSpeaker : 0€
1487,00€ (or approximately 3000 € with Communicator and Look to Learn)
Bonus: Bob or How a Fixed PC can be Mobile
A few months ago, I found this video of Bob (in French). Bob is a communication assistant at the Marseille hospital. It is a fixed computer mounted on a kind of trolley on wheels which allows to move it to install it very easily near a patient.
For information, the eye tracker is a Tobbi EyeX, the first low cost eye-tracker from Tobii (99€ in 2015, not sold anymore) and the communication software is GazeSpeaker.
I adapted the "fixed" configuration presented above with a TV stand like this one (119.99€ at Amazon). The screen is installed on the TV and the computer on the back plate (fixed with thick double-sided adhesive). We move it easily as needed, to the bedroom, the living room or any other place near a power outlet. Bob costs less than 700€.
Bob's other big advantage is that he avoids having to recalibrate the eye-tracker too often. The latter always remains at the same height and if the child is always positioned in the same place relative to him, there is no need to recalibrate.
Bob can also be adapted with laptop and external display.